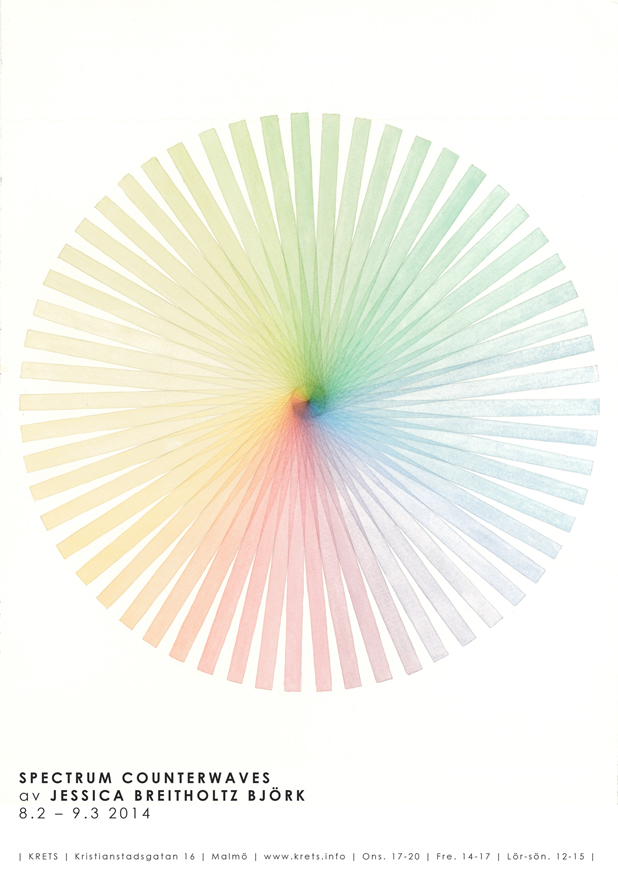 JESSICA BREITHOLTZ BJÖRK
Spectrum Counterwaves
8.2 – 9.3 2014 KRETS, Malmö, Sweden
Jessica Breitholtz Björk (b. 1975) often works in series, in which she explores the possibilities and limits of abstract painting – and how these can be extended and transcended. Through a cyclic and repetitive process, she investigates phenomena such as color, light, spatial relations and perception.
In the recent years, Breitholtz Björk has worked with fluorescent paint and its ability to emit light. Spectrum Counterwaves shows a part of a series of paintings that focus on the color's movements through the spectrum; a gradual sweep through purple, blue, yellow, orange and red. Each color has – in many small steps – been mixed with white, in order to be pushed to its very limit; the moment when the color stops being a color. With repetitive wavy movements she has built up color fields on the paper surface, moving in two opposite directions. The waves run vertically in each work, but presented in the room they also run horizontally across the series – which allows the beholder to follow the color's process and transformation through the spectrum. The exhibition also includes the video work Two Depths, which, like the paintings, circulates around transition, spatiality and interconnections of things that otherwise might seem essentially disconnected.
Jessica Breitholtz Björk lives and works in Copenhagen. She holds a MFA from The Royal Danish Academy of Fine Arts and has exhibited in Copenhagen, Amsterdam and Malmö. Aside from her art practice, she has also worked with music projects such as Majessic Dreams, together with Mats Björk. Spectrum Counterwaves is her first solo exhibition KRETS.
More information:
www.jessicabreitholtzbjork.com