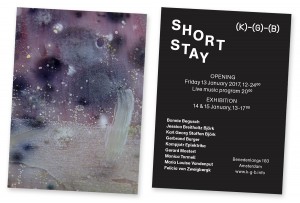 Bonnie Begusch—Jessica Breitholtz Björk—Karl Georg Staffan Björk—Gerbrand Burger—Kompjotr Eplektrika—Gerard Mostert—Monica Tormell—Maria Louise Vandenput—Felicia von Zweigbergk
Opening:
Friday 13 January 2017, 12:00—24:00
Live music program 20:00
K–G–B, Benedenlangs 183, Amsterdam
Exhibition:
Saturday 14 and Sunday 15 January 2017, 13:00—17:00
More information:
Live music Friday 13 January
20:00 Gerard Mostert
20:30 Kompjotr Eplektrika
21:00 Computer Mustard (GM + KE)
www.k-g-b.info
–––
Access the now a projection
On moments of space in a row
Row in the moment of access
The vessel of prodigious glow
Based on the poem Access the Now by Kompjotr Eplektrika, as well as the time frame of the actual exhibition (on display only for a weekend), Short Stay sets out to isolate the present and explore what happens in the very moment when/where the immediate future merges with the past.
The exhibited works deal with the instantaneous through thoughts and ideas related to physical laws and general human perception, but also to art history, natural science and phenomena such as cultivation, aging, repetition, disruption, transformation and what is yet to come. Many of the works focus on intermediate sequences of transformation and on properties that emerge within an interval; the behavior of different structures, and how these develop in new formations. Emphasis is also put on the margins of 'the instant' within a time span; the infinity of the universe versus the immediate revelation of an idea drawn onto paper.
On the opening of the exhibition, Kompjotr Eplektrika will perform an improvised set of 'classic computer throw-up music', using analog instruments that are sampled and sequenced through time-manipulating software. Gerard Mostert will perform Bach on harmonium and, for this occasion only, the two will perform a collaborative time-stretched set as the duo Computer Mustard.
–––
K–G–B
Art and space in Amsterdam Noord.
Website: www.k-g-b.info
Contact: office@k-g-b.info
Visiting address: Benedenlangs 183, 1025KG Amsterdam, The Netherlands